The Archives of Michigan. The Archives of Michigan initially conceptualized CWD150 as an opportunity to leverage state efforts going into the Civil War Sesquicentennial and build on that momentum to begin making data connections across local, state, and federal archives.  SeekingMichigan.org, a joint project with the Archives of Michigan and Library of Michigan, provides a unique digital combination of presentation and discovery of state holdings, including a large collection of Civil War related assets.
The Internet Archive. The Internet Archive is a non-profit, digital library based in San Francisco that has been archiving the web since 1996. The Internet Archive maintains one of the largest, public web archives in the world, a freely-accessible archive of over 150 billion web pages harvested from 1996 to the present, as well as almost 2 million public domain texts, hundreds of thousands of still and moving images, video and audio files, and tens of thousands of software titles and educational resources.
Since 2002, the Internet Archive has been working in collaboration with libraries and archives around the world to develop new collections and tools to foster web preservation, access, and research.  The Internet Archive believes it is critical to make accessible archival web pages hand in hand with digitized documents, images, and other historical digital records to facilitate broad collaborative research across institutions/academics.
Freebase. Freebase is an open, Creative Commons licensed repository of Structured data.  Freebase has information about approximately 12 million Topics or Entities and is growing every day.  In addition to an enormous repository of data, Freebase provides a robust application programming interface ("API") and a hosted application development platform that makes it easy to build and share Freebase applications.

Digital Scholarship Lab, University of Richmond. Since 2007 the Digital Scholarship Lab has been developing innovative digital humanities projects that contribute to research and teaching at and beyond the University of Richmond. It seeks to reach a wide audience by developing projects that integrate thoughtful interpretation in the humanities and social sciences with innovations in new media.  Its projects focus on a wide range of topics, but especially on the history and geography of nineteenth-century America.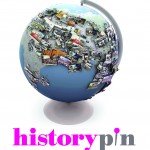 Historypin is a public history project developed by London non-profit We Are What We Do in partnership with Google and over a hundred cultural heritage institutions worldwide. The project aims to bring millions of people together around historical content and the stories and recollections behind it. The free site and mobile smartphone apps enable users to pin content in place and time, as well as layer street level content onto Street View.