In the rush up to getting things in place before the beginning of the Civil War Sesquicentennial commemoration, we ended up setting up our tweets of significant Civil War battles without any programming, even though Ed Summers had laid out some great pointers for us.
I ended up sticking with the key battles identified by the National Park Service on their website, http://www.nps.gov/hps/abpp/battles/bystate.htm.  This gave us the key data, as well as static web pages to link back to.  I put this into a CSV file, which is available at the Internet Archive.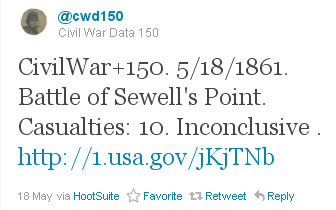 From this file, in Excel, I concatenated the date, battle name, casualties, outcome, and a bit.ly shortened link to the NPS battle page (I got the bit.ly links by feeding them into the Bit.ly/Google Spreadsheet template, though you can only do up to 50 at a time). Then I checked the tweets just to make sure they were less than 120 characters long (you want to leave enough room for people to easily retweet).
Next, I used the pro version of Hootsuite ($5.99/mo) to bulk upload the future tweets (you can also try that feature for free for 7 days).  They allow up to 50 tweets at a time via a CSV file that has three columns: date and time for the future tweet, the tweet, and a link to embed in the tweet.  In order to format this CSV file, I needed to tweek my tweets from above just a little bit.  For the first column, I concatenated a future date by taking the day and month, adding 150 to the year, and then choosing an arbitrary time of 10am.  The second column is self-explanatory, and the third column will create an ow.ly-shortened link.  In doing this, I lost the bit.ly shortened version of US government pages, which is 1.usa.gov, which I like.  So for the next batch, I won't use the link column but keep the links in the tweet column.
So far, I've loaded up battles for about the next year.  It makes me wonder what new social networking platforms we may be using by the time we get to the end of the Civil War Sesquicentennial commemoration four years from now…